Warehousing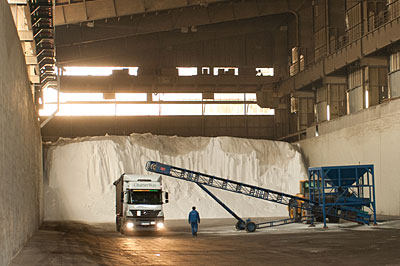 Lagerhaus Lübeck possesses storage capacity in seven storage depots and four grain silos totaling 150.000t to store heavy grain, feeding stuff and fertilizer. In 2004, a terminal for liquid fertilizer with a capacity of 30.000t was formed which is operated by Fa. Agro Baltic GmbH. The four grain silos have a total capacity of 7.000t for heavy grains. There were built in 1998 and are used primarily for gathering heavy grains for the purpose of transshipping to inland waterway vessels. Also in 1998 the company invested in a second grain receiving station and a machinery house with a modern 240 tons / h screen cleaning machine manufactured by Rietberg.

The intake and loading capacity amount to 400t/h each by now for grains.

The 12.000 square metres of open air storage are partially paved and can accommodate bulk goods of all kinds like construction materials, woods, metals, scrap etc.